DAM Events is coming to The New Parish in Oakland!
Thursday, June 8th
The New Parish (1743 San Pablo Ave, Oakland)
Doors 9pm, Performances begin 9:30pm
– An 18+ Event –
– Tickets @ Door begin at $25. –
---

Hosted by RJ "Koolraul" Navalta & DCischillin of 106KMEL
DAM is THE place to mingle amoungst rising creatives, shop from local brands/artists, and take in some good music with a cocktail in hand, all while enjoying amazing live performances amidst amazing visual arts.
Now going into our 6th year of productions, we are excited to continue supporting and pushing our Bay Area artists to connect, create, and inspire!
Sounds by the Goodcompany DJs and Celebrity DJ William Stokes
In Conjunction With JE Media, the Soulidified Project, Montage Productions, MoveMedia Pics, & more
---
SUPPORT DAM EVENTS & DONATE via our current GoFundMe Campaign for expanded 2017 productions/opportunities for Bay Area Artists :
www.goFundme.com/DAMevents
---
The Hosts :
RJ "KoolRaul" Navalta
@rjkoolraul
Durell "DCischillin" Coleman
@dcischillin
---
The DJ's :
Goodcompany DJ's Druskee & Jon Reyes

@druskee_ | @stankpalmer
William Stokes :
@williamst0kes
---
The Artists :
M.E.T.A. Clothing Co
WWW.METACLOTHINGCO.COM | @metaclothingco | Facebook
Mind Elevating Thoughtful Apparel (M.E.T.A.) Clothing Co. – Premium Clothing, Affordable Price. Live Beyond the Normal. Live M.E.T.A.!
Blijha
@Blijha | Facebook
"I am a 23 year old Rapper, Singer, Song- writer, Dancer and Drummer. I've been performing on stage since the age of 10. Artist who inspire me are Sheila E, Queen Latifah, J-Cole, Wale, Missy, Salt & Peppa and MC Lyte. Iv'e opened up for artist such as Krayzie Bone of Bone Thugz and Harmony, HBK Skipper or HBK, YuckMouth and Rayven Justice. You can Follow my Journey on Instagram at @Blijha or check out my music on sound-cloud @Blijha as well."
Watch her "Never Forget You" Music Video
Camille Ganancial
@itscamilledoe | Facebook
Camille Ganancial is a hip hop dancer from the Bay Area. She has trained in multiple styles from jazz and tap to hip hop from the young age of 8 to now. For almost all her life dance has become one of her biggest passions. She has trained in multiple companies such as Sherrie's Dance Studio, Funkanometry SF, and Chapkis Dance. She is currently dancing and competing on a team called Prophecy from Chapkis Dance Family in Suisun City. She would like to thank and give credit to her mentors Melvin Timtim, Greg Chapkis, and Derrique Daniels for molding her into the dancer she is today. Some of her credits include: Hip Hop International USA Champs 2014 and 2016, NBC's America's Got Talent Season 10, and NBC's World of Dance Season 1. Camille would also like to thank Bibi for giving her the opportunity to showcase her work for the very first time here at DAMSF/OAK. Enjoy!
Page Yang
@pagepayang | Facebook
Page Yang is a young dance artist from Sacramento, California. Living in the City of Trees her whole life has cultivated her into an active member of her Sacramento community. Since the age of five, Page has trained with many Sacramento dance crews including Somebody's, Press Play, Project, and Bellas. She has worked with music artists J Banks, Neft the Pharaoh, Kass, and Iris Velez. While pursuing her Bachelor's in dance at Sacramento State University, Page also works very closely with the youth by providing dance education during after-school programs. All of these experiences have recently inspired her to explore her individual voice by engaging in the freestyle world of dance, where she plans to make her waves as an artist.
Wrapped by dlee
wrappedbydlee.com | @wrappedbydlee | Facebook
Dorothy Lee is an Oakland native and creator of Wrapped by dlee, LLC. She's pretty awesome, and basically loves other awesome people and things.
Vona B.
www.vonabmusic.com | @vonabmusic | Facebook
Vona B. Is a vivacious, 20 year old, powerhouse from the Bay Area. She realeased her freshman EP "Down To Mars" last November in 2016 and followed that up with her release of "Running" where she reminds her love interest she has what he wants and needs and this past April released her anthemic single and powerful visual entitled "Touch" which reminds men that it's okay to look but, not touch and reminds women to stand up for themselves. She aspires to uplift people through her music and change the world with her voice.
A. Spearman & Co.
www.aspearmanandco.org | @AspearmanAndCo | Facebook
Andréa Spearman is a student, teacher, choreographer, and performer of a variety of modern-based movement. Her background includes the study of modern dance, hip hop, jazz, west African, ballet, Haitian, Latin styles, worship dance, musical and dramatic theatre, music theory, dance composition, dance history and production. She has studied under Dawn James, PJay Phillips, Dr. Linda Goodrich, Jacqueline Burgess, Dr. Zak Diouf and Carla Service. She creates works that draw on a diverse set of deeply rooted cultural traditions and an eclectic mix of styles Andrea's style and passion emphasizes the importance of solid technique, flawless rhythm, dedicated practice and personal style.​
Juliet Farnsworth-Henry
@Juliet_farnsworth | Facebook
Juliet Farnsworth-Henry is a bay area native. She has been dancing for the past 16 year's. She is trained in a variety of styles and continues to further her training in New York and Los Angeles. Not only is Juliet a dancer but she is also a choreographer and has been for the past 6 year. She has been awarded numerous awards for her choreography. Her greatest passion is performing and there is nothing that gives her more of a thrill than being on stage.
Ariel Krystyne
@arielkrystyne | Facebook
My name is Ariel Krystyne. I'm 25 and I'm from Sacramento. I've always loved dancing ever since I was really young, but never really got serious about it until about 6 years ago when I took hip-hop in college. I joined GROOVEology and slowly I became a choreographer and later Co-Director of the company. I also teach beginner and intermediate kids classes at Bliss Urban Arts Center in Vacaville regularly as well as other studios in the surrounding area.
My main goal as a dancer is to express and tell a story. Every movement has a purpose and I want the audience to walk away feeling something, feeling what I feel when I dance it and that can be from a party scene to something emotional. I want to unite our community and others through this expression and connection and spread a message a positivity and love to everyone I meet.
Thomecia Busby aka #MESOSEXY
@mimihunnay | Facebook
Thomecia Busby, also known as MiMi. Born and raised in Oakland, CA, began dancing at the age of two and never stopped! After graduating college in Nashville, TN she worked as a Program Director for a local Performing Arts program, enhancing the community through in school STEAM programs. She moved back home in August 2015 to begin training with Groove Against the Machine. Currently teaching at a few studios in the East Bay, from Hip Hop to Sexy fitness classes!
MAB MINDZ
www.mabmindz.bigcartel.com | @mabmindz/@weareMABMindz | Facebook
"MAB is for the rebels who are leaders, philosophers of art, culture and life. The freelance artists, all vision thinkers. The ones who follow their dreams and goals.
It is the essence of abstraction, it's having the mentality of being innovative every second of your ongoing changing all the time fast moving, learning something new everyday crazy beautiful life lol.
Our motto is Stay Focused, Keep Faith, and Fufill your passion in life. We're not trying to catch and write life. We choose to stand out, be abnormal apart from everyone else.
We strive to connect and empire people through art, passion, culture and opportunities.
Saying we have swag will be a pejorative meaning. That's why we are who we Be, Cool like how we are & Different how we should be. You can say we're Mellifluous Abstract Beautiful and that's how our Mindz roll.
We're MAB Mindz."
– Levelle Timberlake, Founder & Creative Director
Skullz and Sketchez
@Sketch0706 | Facebook
Acrylic painter whose focus is on the beauty of life and death.
BodyWerk
Bodywerk Dance brand has been around 3 years. Created in Oakland, Ca. Director and Owner is Momo Lebeau hosts dance classes 7 days a week around the Eastbay. Full schedule is available on Facebook!

HennaByLexx
@hennabylexx | Facebook
"My passion in life is to create. We were created not to stay the same forever. We were created to create MORE. Everything that is, was once imagined."
Leslie Panitchpakdi
@lemongrasscoconut | Facebook
"A bad ass b*tch with bad ass dance moves."
L Rucus
@iamlrucus | Facebook
Lyrically diverse individual who works hard and shows his talent/determination for his music through his work-ethics and energy when performing or recording. Great stage presence and determined to make a name for himself. He's performed with many artists from Big KRIT, LoveRance, Sage the Gemini and more. In an industry full of stars, he plans to shine the brightest.
Brandon Leake
@calledtomovectm | Facebook
"Yo! My names Brandon Leake and I'm a spoken word poet out of Stockton, CA. I just got doing a tour for my spoken word album "In My Thoughts" that traveled through 5 states! My only goal is to change perceptions and through my poetic reflections. And last but not least I'm a big #JesusLover."
Lil Ricky
IG: @lilrickysj. Twitter: @lilricky408 | Facebook | Soundcloud
Lil Ricky is an up and coming artist from San Jose, growing up in the projects on the Southside. Coming from a rough gang infested and drug dealing area, it was and is not easy for Ricky to make it out. With some help from friends and his role models such as Tupac, Logic, Kendrick Lamar and many more, he is beating the odds. Pushing positivity through his music and promoting nothing but belief and self confidence, Lil Ricky has made it his mission to help the youth and steer troubled kids in the right direction and out of the rural neighborhood.
Revel Wear
@revelwear.co | Facebook | www.revelwear.co
Revel is a ready-to-wear brand that believes a woman's strength must shine in all of her incarnations. We design to empower her. To encourage her to celebrate herself first and foremost. We strive to enable self discovery, and embrace complexity. Incorporating elements of both the masculine and feminine, the bold and the fluid, the street and the runway, Revel acknowledges the many facets of modern women and the need for versatility in their lives.
The Revel woman is an amalgam of styles, cultures, and storied backgrounds. She's a jet-setter, a fitness maven, and a bold role-model—active, aware, and driven. Signature pieces juxtapose high end sensibility against sportswear detail—a wardrobe engineered to transform and move with her. We design clothes that help her succeed in the many spaces and identities she inhabits throughout her day, her life, and her goals.
Rodrael
@rodrael_music | Facebook | rodrael.bandzoogle.com
Rodrael is a singer/songwriter from the East Bay area who attended high school at Oakland School for the Arts and college at UC Santa Cruz. Finally, he received his Master's of Arts in Music Industry Administration at CSU Northridge. He pours his heart into every lyric and melody. Follow his journey on IG: @rodrael_music
Aria Co Jewelry
@ariacojewelry
Sinful Art
@thetattooartist
An artist who lives to paint, lives to draw, lives to design, and loves to tattoo.
*WILL BE TATTOO-ING LIVE AT DAMOakland*
House of Mizrahi & Friends
The Legendary House of Mizrahi, West Coast Chapter
Tyanna Braswell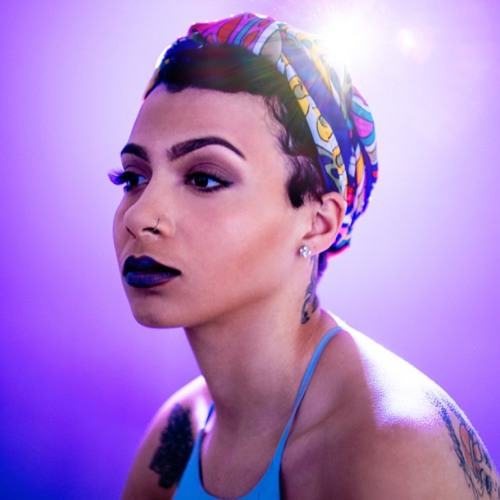 @teespeaks_ | Soundcloud
Tyanna (Teespeaks) Braswell is a 21 year old spoken word poet from the South Bay. She's has been traveling the coast of California performing for many shows and appearing on poetry tours such as "A few Good men" poetry tour. With the release of her latest audio project titled "Warm Regards ( A collection of poems and unsent letters about you)" she has been heavy at work to take her craft to the next level. Her world centers around love, social injustice, womanhood and all things real.
XI Company
@xivisuals | @xicompany | Facebook | e11evenco.bigcartel.com
WE are a production company using our art and clothing/products to spread positive energy.
Culture Shock Oakland
@csoakland | Facebook | Culture Shock Website
Culture Shock is a hip-hop dance organization dedicated to innovative performance, artist development, and community enrichment revealing the power and beauty of hip-hop to diverse audiences.
Taco LaFlare
@tea_aye_see_ohh | teaayeseeohh.bigcartel.com
---
Media Team :
Soulidified Project (videography)
Montage Productions (photography)
Jo Mulson (photography)
MoveMedia (videography)